(This is an article that ran on The Huffington Post in November 2017. It is about an extraordinary episode of 20/20 that aired on ABC that month and is currently available On Demand or through the ABC app.)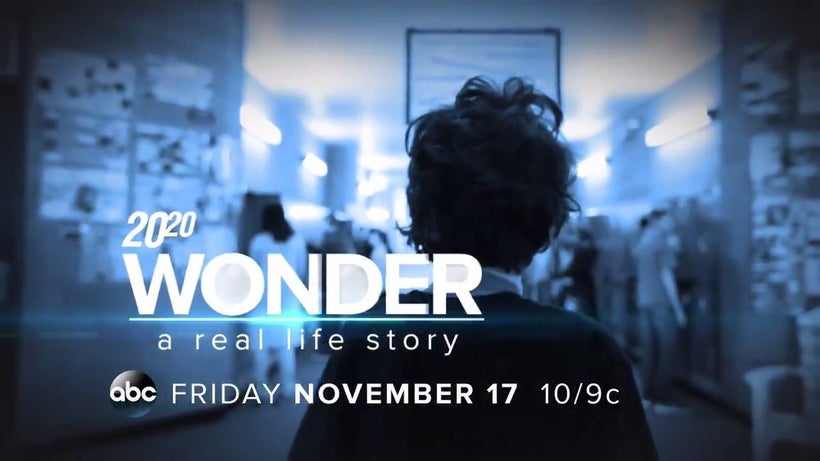 If you are the parent of a middle school child, it's quite possible your son or daughter has read the book Wonder by RJ Palacio. You also may have picked it up and perused it yourself, or even been thoroughly captivated from beginning to end and consumed every word. I belong to that latter category of parents. Thinking of the story now brings tears to my eyes.
Wonder, which begins with a quote from the Natalie Merchant hit song, is about a boy named August (Auggie) Pullman who is entering a new middle school. Auggie is nervous about starting Beecher Prep and it's not due to the typical anxieties that kids face, but because he has a rare facial deformity called Treacher Collins Syndrome that affects one in 50,000 people. In this book, readers see how Auggie makes the adjustment after being home-schooled for years, how he considers the perspectives of his peers and how they respond to the novelty of him.
For nearly 3 years, 20/20 host Elizabeth Vargas followed Nathaniel Newman and his family. Nathaniel's story bears an uncanny resemblance to the fictional one created by RJ Palacio in Wonder. On 20/20 this past November, Vargas reported on Nathaniel and his family's story. Viewers got to see how he navigates everyday challenges, from the start of a new school to undergoing groundbreaking surgery. In addition to interviews with the Newmans, the special featured Nathaniel's doctors, Wonder author RJ Palacio, actor Jacob Tremblay (star of the film adaptation of the book) and Jono Lancaster, a 33-year-old with Treacher Collins Syndrome. The episode culminated in a surprise from acclaimed singer Christina Aguilera, whose song Beautiful emboldened Nathaniel's parents after his emotional birth.
Following is my conversation with 20/20 host and acclaimed ABC journalist Elizabeth Vargas: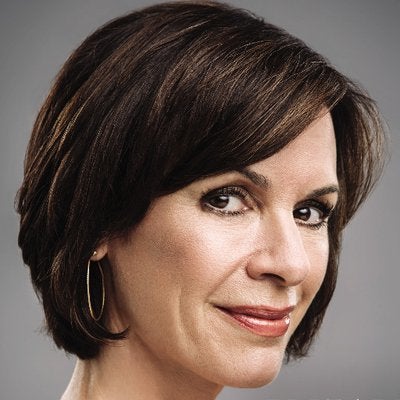 I read the book Wonder with one of my sons and it really is a story I recommend to others. I understand you spent three months with the Newman family. Had you also read Wonder and did you see a lot of similarities between Nathaniel's family and Auggie's family?
I read the book Wonder to both my boys when it first came out in 2012. We all absolutely loved it. So two years later, when my mom emailed me that a friend of hers was teaching the "real life Wonder boy" in her fifth grade class, I jumped on it. Once we began spending time with the Newman Family, the similarities between Nathaniel and the character in Wonder, Auggie Pullman, were so striking they were eerie. Both boys were born with severe facial differences, both were starting a brand new school and both had endured dozens of surgeries in their young lives. But even more astounding, the Newman Family felt a close personal connection to the song "Beautiful" sung by Christina Aguilera. The lyrics to that song are quoted in the book Wonder. The author of the book, RJ Palacio, had never met the Newmans, or heard of them before. Both she and the Newmans were astounded at the similarities between real life and art, in this case.
After Nathaniel was born, his parents became determined to recognize the beauty in their son after hearing Christina Aguilera's Beautiful. Can you tell me about Christina's participation with 20/20 in the making of this episode?
Nathaniel and his dad send out a letter every year to his new classmates at school, introducing himself and explaining his condition, Treacher Collins. He also includes a photo of himself to help the kids feel less "shocked," as Russ puts it, when they see him. But Nathaniel and his family say hands down, the single most powerful tool making life easier for Nathanial and other kids like him, is the book Wonder. That book has changed lives. The Newmans say without a doubt, Wonder has made the world a little kinder when Nathaniel walks through it.
I understand that you spoke to an adult with TC syndrome? Are the surgeries done for him or are there more ahead? Did he have a chance to meet Nathaniel? How does life with TC today compare to his childhood?
One of the most exciting parts of the hour for the Newmans was when they met a 33-year old man with Treacher Collins Syndrome from England. His name is Jono Lancaster and he is probably the most famous person out there with this condition. We flew to London to interview Jono. His Treacher Collins in not as severe as Nathaniel's, but he had a really tough time of it, too. He told me the hardest years for him were his teenage years when the teasing from girls was especially painful. He thought he would never have any kind of romantic relationship, ever. We are happy to say that has not proven to be true. I interviewed his girlfriend, and she Skyped with the Newmans during Jono's visit. I think Jono gave the Newmans real hope that Nathaniel could grow up and have a normal life, even with his condition.
Was there a real life inspiration for RJ Palacio's Wonder? Can you give us some highlights/things to look forward to about her experience meeting Nathaniel?
RJ Palacio got the inspiration for the book after an incident at an ice cream shop. RJ was there with her young child, and when they sat down on a bench to eat their ice cream, she noticed a little girl with Treacher Collins sitting right next to her. At that moment, RJ's young child also saw the girl and began to cry in fear. RJ says she rushed to gather her things and hurry away with her child, trying to spare the little girl from experiencing her own child's frightened reaction. RJ says she realized when she got home that she had mishandled the situation, and instead of sparing the girl any pain, she may have made it worse. She set out then to write a book about a child who has to grow up in a world where people sometimes don't know what to do or how to act around them. She says when she met Nathaniel Newman she thought, "It's Auggie Pullman, come to life!"
20/20: WONDER BOY – A Story of Transformation" aired Friday, November 17 on ABC. You can now catch the episode On Demand or through the ABC app .