(An earlier version of this ran on Huffington Post, June 13th, 2017. The following article is a revised and updated version.)
When Southern Charm began airing on Bravo in March of 2014, it took a while for viewership to make an impact for the network. By season 2 however, a rapt audience had tuned in to the drama that played out between privileged Southerners while a disapproving matriarch tutted about improprieties and a former Real World star begged the "Southern Gents" to settle down. The show, now approaching its 5th season, is currently popular enough for Bravo to have introduced a spinoff that just aired (Relationshep, about cast member Shep Rose, a ladies' man looking for long term love – allegedly). The newer Southern Charm Savannah is another offshoot of the original. It premiered on May 8th, 2017 and Season 2 is filming now.
THE ELEPHANT
It is no surprise that shows about privileged white people in the South have garnered criticism and sparked wild rumors to make heads roll (a much-debated Page Six blind item referred to one Southern Charm costar's "negrobilia," a prized collection of artwork by black slaves. Of course, speculation abounds that the item was planted by a conniving adversary).
Many viewers have overtly stated in the comments sections of articles about the original SC – set in Charleston – that these people don't seem to do very much for a living, yet have impressive wealth. The implication isn't something that needs to be stated outright, though of course it is brought up periodically: Some of the cast members descended from plantation owners who kept slaves.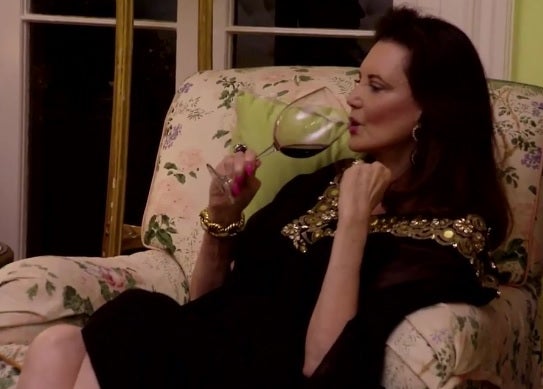 One female costar from a "prominent family" actually has an ancestor who was an outspoken slavery proponent and advocate. Despite her family name garnering respect in the South, her lack of riches as compared to the wealth of her cast mates, and her unconventionally rebellious ways, perpetually elicit scorn from the above-pictured matriarch. (Photo Source: Reality Tea)
WOKE?
Brought into question about the franchise is the question of: Just how "woke" are these individuals? If you're not a Millennial or someone who keeps up with the Urban Dictionary, "Woke" is a political term of black origin referring to awareness of social and racial justice issues. The hashtag #StayWoke is a popular one. So where does Southern Charm fall on the Woke Scale?
Sexism and double standards for women have also been brought up by critics in connection with the franchise and thoughts on this vary today. Here we are prior to the start of Southern Charm's Season 5 (and Southern Charm Savannah's Season 2): Viewers hone in on specific words used, things left unsaid, issues that are ignored and political sentiments tweeted out by cast members (including a barrage of tweets by cast mate Thomas Ravenel, including one directed at Bravo honcho Andy Cohen that has since been deleted). A contingent has expressed feeling offended by certain cast members' actions, yet manage to return and tune in each  season…despite protest. This attests to what we observe time and again with Bravo shows and those airing on other cable networks: the compelling nature of material that provokes ire.
A SHOW ABOUT PETER PAN PLAYBOYS
Both Southern Charm and its Savannah offshoot have struck viewers as exuding an "all boys club" vibe. While it is impossible to pin that on production, some insiders (who requested anonymity) have speculated that Haymaker executives (both founders who sit at the company's helm are male)  http://www.haymakercontent.com/ – who originally packaged the show as Southern Gentlemen – have a "boys will be boys" mentality,
According to writer Amy Feinstein of Inquistr.com:  "Southern Gentlemen turned into Southern Charm when Bravo said that the show needed some women in the cast and not just as accessories and dates for the 'gentlemen.' So Cameran Eubanks, Jenna King, and eventually, Kathryn Calhoun Dennis were added in to round out the cast."
Feinstein is referring to the first season of the original Southern Charm in her quote above. However, viewers had a lot to say about the most recent seasons of that show and its Savannah offshoot.
SLUT SHAMING
On Southern Charm Savannah, Ashley Borders was essentially slut-shamed for golfing in her one-piece bathing suit. While cast mate Louis Oswald played too, his participation was minimized and given little credence by cast mates. Producers often get thrown under the bus for what we see on camera, but how much should we really be blaming on them versus the cast members they spotlight?
The answer to that may be subjective and personal as well as dependent on how real you consider reality TV to be. Despite Season One (of Southern Charm Savannah) airing as recently as 2017, we have a long way to go when it comes to the "blame game" and expectations for women versus men. Additionally, this is maximized by the old fashioned concept of Southern propriety and the notions attached.
While it would be nice for Haymaker and Bravo to bring Ashley back for her "redemption season", the rumor (based on those who recently spotted the cast filming and captured photos) is that she will not be returning as a full time cast member.
KEEPING UP WITH KATHRYN 
The Twittersphere has often been abuzz with speculation about how Kathryn Calhoun Dennis, the ginger-haired vixen of the original Southern Charm, has been scrutinized for her "bad behavior" (a subjective term) much more so than cast mates Thomas Ravenel and Shep Rose. Neither gent has been depicted as an angel (Shep's drinking and impulse control were issues brought up last season), but there's the contention that the "playboys" get away with a mere slap on the wrist. The idea of having children out of wedlock is also likely seen as the most shocking of offenses for a Southern gal, but we have to wonder if matriarch Patricia Altschul remembers that Thomas Ravenel, who she is visibly fond of, fathered Kathryn's children.
A PROFESSOR TAKES A SOCIOLOGICAL AND ANTHROPOLOGICAL PERSPECTIVE
Ned Rinalducci, Ph.D. is a professor living in Savannah and teaching there at Armstrong State University. As a Political Sociologist, he also researches and examines religious and ethnic political movements and cultural identity. He writes on Islam, religious politics, ethnic politics, and ethnic nationalism. Every summer he teaches a pop culture course that focuses on reality television and last year, he assigned his class a show that was filmed in their own city, Southern Charm Savannah.
He explains: "Even before I started watching Southern Charm Savannah, I gave assignments in a summer pop culture class where we examine race, class and gender through reality TV. What we note is that it's always done in a stereotypical way to really drive the narrative they're trying to deliver. A large portion of Savannah is actually African American so Savannah viewers said: 'this isn't about Savannah. This is about rich, entitled white guys.'"
"The majority of the population here is not represented by this show. There definitely are circles where the social hierarchies are stressed, but most people living here are not a part of that. It is very real though – I have been in Savannah for 18 years and I'll never be a 'Savannian' because I wasn't born here and my family is not from Savannah. Southern Charm does what so many reality TV shows do: There are story arcs and narratives about characters and the shows exaggerate things like gender stereotypes (we see that with the original Southern Charm, the greater expectations upon women to be proper), social class and race. On some level, this makes people connect to the characters and it's disconcerting – It's reality television, but it's not real."
"Last summer, I had my students really examine how race, class and gender were depicted on Southern Charm Savannah. They looked at signs of Southern culture and discussed whether it seemed authentic. My wife, who is a true Southerner, saw part of an episode where Catherine hosted a bridge party in the hopes of embracing an old tradition. She said to me 'Nobody plays bridge anymore!' I thought that was funny because my own mom, a Northerner, actually plays bridge!"
A PERSPECTIVE ON SOUTHERN CHARM FROM A BLACK, GAY AMERICAN MALE
Troy McEady of the podcasts Emotionally Broken Psychos (he has co-hosted with Molly McAleer) and EBP's The Smush Room (which he alone hosts) admits that being a black, gay American male does not prevent him from watching Southern Charm and Southern Charm Savannah. McEady feels that bigotry stares you in the face with Savannah, whereas on the Charleston show there's an "underlying sentiment."
He elaborates: "Kathryn comes from a long bloodline of people that owned huge plantations in the South. We've been watching Charleston long enough that we're almost used to it – as gross as that is to say. It's not overt, but it's still uncomfortable. With Savannah, they used it in a sort of 'cutesy' way last season. Catherine (not to be confused with Kathryn of Charleston) talks about how it's uncouth to discuss where money comes from, but we know where that money comes from – owners of large plantations. It's a weird thing to lightly dance around – because it's embarrassing."
One Savannah character from last season (who is likely also not returning — based upon cast trip photos that recently surfaced) used the Yiddish "S word" to joke around with Daniel. McEady observes: "In that case, it was social awkwardness and social unawareness when it comes to race. This is also a character who needs to be more self-aware. The statements came across as boldly racist. However, it was almost less offensive coming from him because he seemed not to possess the appropriate thought processes."
McEady adds: "I'm hoping that things turns around with Southern Charm Savannah. It feels like those characters were uninteresting for the most part. The things Bravo used as filler (in Season One) were there because there wasn't much to show. I'm not surprised that there's an upcoming Season 2 because Bravo decided to give it another chance, but I doubt there will be a Season 3 unless there are major changes. Personally, now I'm invested so I've got to watch regardless. Unless they shake up the cast in some way, these people are uninteresting – with the exception of Ashley…and perhaps Daniel. While watching, I actually had to remind myself what was happening in terms of story lines. There didn't seem to be too much there."
THE "SWEET SPOT"
When it comes to that question of being "woke," McEady has some thoughts on the entire franchise:"Bravo has found this sweet spot with Southern Charm – or what they think of as a sweet spot – to address the racism and sexism. 'Let's make it not seem so inappropriate that Thomas comes from a family of slave owners by putting cutesy music behind it.' Patricia, the matriarch, comes across as a sexist woman. She dismisses what the men do and how they treat women while requiring women to be prim and proper. I really don't think any of them are terrible people but it seems some (particularly the younger cast members across both Southern Charms) have been sheltered and are clueless."
BRAVO HAS CONSERVATIVE VIEWERS TOO, OF COURSE
Fortunately for Bravo, there are many conservative viewers who are not harping on political correctness and are less sensitive about issues of concern to liberals (AKA "Snowflakes," a beautiful phenomenon of nature that is supposed to be an insult?). Southern Charm Savannah's viewership was significantly smaller than the original, yet it still managed to rise steadily from week to week and it may be in part to those who are unfazed by things that "trigger" others.
LET'S ALL BREAK BREAD AT THE DINNER TABLE
"We live in a political climate where everybody has a voice," says McEady, "You can relate to something and learn something about a black person without being a black person… Everybody has sat at a dinner table where someone of an earlier generation said something that resulted in flying tableware. There is a lot of weight added to things that people say today. It's very heavy and it is scary to speak your mind – You just have to use discretion."
And perhaps, that is where the viewers come in as well, the many "voices" weighing in via social media. Southern Charm is akin to that awkward Thanksgiving dinner where we all sit down hoping we can effectively see one another's  perspectives. It is the reason why many of us keep coming back to the table. The right amount of controversy sparks discussion while an excess turns people away. Haymaker knows just how to walk this tightrope so we stay tuned in.