I originally published this article to The Huffington Post on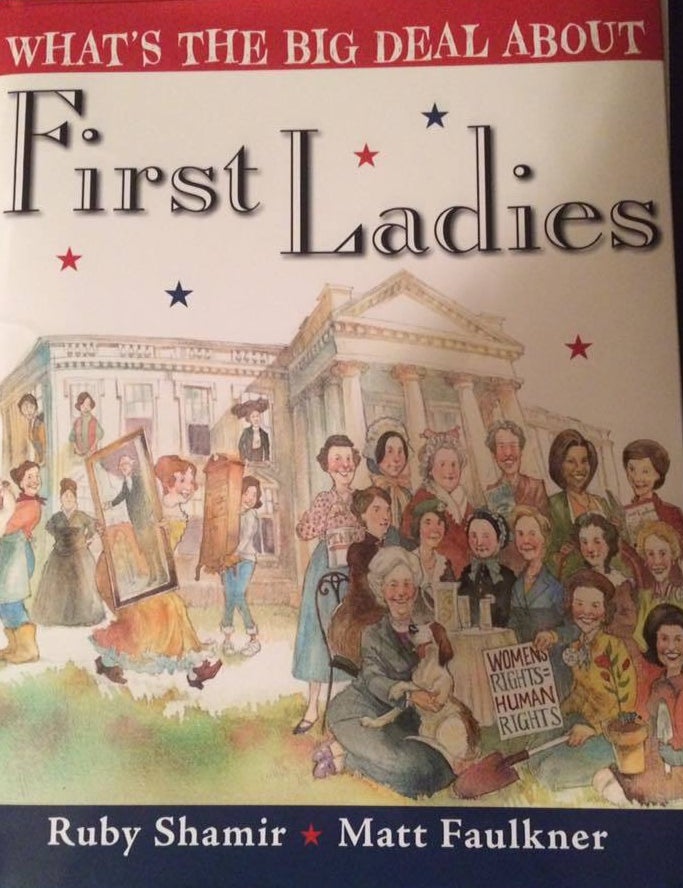 One of the best new books of 2017 is non-fiction, can be found in the children's section and is a great pick for adults too. What's The Big Deal About First Ladies (Philomel Books, January 2017) is the first in a series authored by Ruby Shamir and illustrated by Matt Faulkner, capturing important historic concepts so kids (and grownups!) can understand.
Did you know that Dolley Madison's favorite ice cream flavor was oyster? Or that Grace Coolidge had a pet raccoon named Rebecca? Were you aware of the first jobs held by first ladies? Many of the answers surprised me. I immediately felt more knowledgeable and a bit ashamed that as a grown woman I didn't already know these facts.
Ruby, my former elementary school classmate, has worked in public policy and began noting this information while working at the White House during the Clinton administration. She also served in the First Lady's office for two of her three and half years there. As time went on, she would conduct more historical research and make the shift to Hillary Clinton's New York Senate office. Subsequently, she became active in Mrs. Clinton's presidential campaign and wrote her book before the election outcome. The final product, however, reflects that we are about to start a new term with Trump as president and the next chapter with a new first lady. First Ladies is a great teaching tool and an enlightening read. Unsurprisingly, it also covers many things that Ruby and I were not taught in school as Gen Xers.
SHW: How did you come up with the idea for this book?
RS: I wanted to offer kids a review of our history. Women have long been kept out of all kinds of things -because of custom or law – and the same is true with our history books which don't talk about first ladies' contributions. If they do, they seemed tethered to the executive mansion. There's nothing wrong with being tethered or working within the White House because it is the people's house and keeping it welcoming is a very important thing, but I also wanted to convey to kids that first ladies have been ambassadors, advisers, champions…I didn't see children's books that did that with respect to first ladies. Having come from my background, I know what first ladies are capable of doing substantively and I got to know this at the White House. With my own kids now, I want them to know that these women made very important contributions and I didn't want the first ladies to be overlooked anymore.
SHW: In the beginning of this book, it seems as if the ladies were party hosts at the White House. Then you see over time that they have more dynamic roles and what one might consider 'real jobs.'
RS: I tried to tackle it somewhat chronologically and thematically in the book. There were fewer things for women to do way back when. One thing I learned from my research was that women were not allowed to attend a party without a female hostess present so the first lady's role was born out of that etiquette. Even within that context, Abigail Adams and other first ladies pushed the envelope. Many did things we didn't even know about. Francis Cleveland was popular because she was a pretty, young mom, but something more interesting is that she hosted receptions for women on Saturdays. The reason for that Saturday was that many women were working weekdays. Yes, women were working. So even though she herself was as a woman of privilege, she was still cognizant about the reality around her. Then there was Lou Hoover, a truly modern first lady who had studied geology. Abigail Fillmore taught her husband how to read and write better…I loved thinking about ways to make these facts more interesting. I also wanted to really open this topic up a bit more and air out the truth.
RS: My publisher put me on a schedule and the second book I'm writing, What's the Big Deal about Freedom?, will come out in May. Then there will be more books added to the series. When we talked about this idea, we thought that if this first book came out around the inauguration it would be ideal. I knew it (the election outcome) could go either way so even as I was hoping for a different outcome myself, we planned for things going either way.
SHW: Tell us about your political experience.
RS: I interned in the first lady's office during the Clinton administration in the 90's and that was my first exposure to her (Hillary), her world, the administration…I also worked on the Clinton/Gore reelection campaign in the research office and then on the inaugural committee. After spending some time at a PR firm, I was back in the White House in 1997 under Clinton's communications director. After two years in that position, I started working in the first lady's office and I did domestic policy issues for her and for President Clinton. Then I worked with the Chief of Staff and after the Clinton administration, I worked with Hillary on her memoir. After it came out in 2003, my husband and I were planning to moving back to NY and I was given the opportunity to work in Hillary's senate office which I did until the birth of my oldest son in 2007. I worked on some books after that…(including) with Tom Brokaw. I got my MBA, and then there were some other projects including Chelsea Clinton's book which came out in September 2015.
SHW: So you know the Clintons pretty well!
RS: I do. I have a great….sort of Personal-Professional relationship with the family.
SHW: How did actually spending time in the White House lend itself to the writing of this book?
RS: What I had from my professional experience was a physical and spatial understanding of the mansion, how the White House worked and a personal experience with a very active first lady. I wanted to tell the story of a first lady on a substantive level, but when you're writing for kids you want to talk about these things in a way that will meet where kids are level-wise. You also want to tell it in a way that is compelling and interesting for them. I read a bunch of books on first ladies and one of them was the book from the Smithsonian Institute. Another was by a professor named Lewis L. Gould. There is also a historian named Allida Black who has written a lot of entries on first ladies, so I consulted with her. Between books that I read and talking to historians and friends from the White House, I was able to remember accounts like when Dolley Madison saved the painting of George Washington (During a fire in the War of 1812 – though the fire actually happened in 1814 when the British invaded Washington). One of my White House friends reminded me of the burn marks you can still see in the mansion from that time. As a former staffer, I could add color from my memories and my working experience. There are stones inside the building that you can see are still charred black today.
SHW: I need to go for another tour of the White House. Have any of your colleagues from the White House read the book?
RS: It comes out January 3rd, but some of my friends from the White House read it while I was writing to see if it sounded right to them. A bunch of my other friends have pre-ordered it. I have an event in Chelsea on January 8th where I hope to see some of my friends from the White House as well.
SHW: You definitely should visit schools with this remarkable book. My twins are in second grade and I can see their classmates being interested.
RS: My oldest daughter is also in second grade and I feel like this is for her and her age group – definitely! I'm hoping that this can also be a resource book in a school library.
SHW: Why do you think girls specifically need a book like this today?
RS: Even if our history books have long ignored contributions of women or excluded them from equal opportunity, women were always contributing, always doing! First ladies were a part of this and a major force in American history. Maybe this book will give kids the opportunity to look beyond the facade of the perfect dress to the brain and the heart of the women who is wearing it. I want them to know what is motivating her and the kinds of things she does with her life.