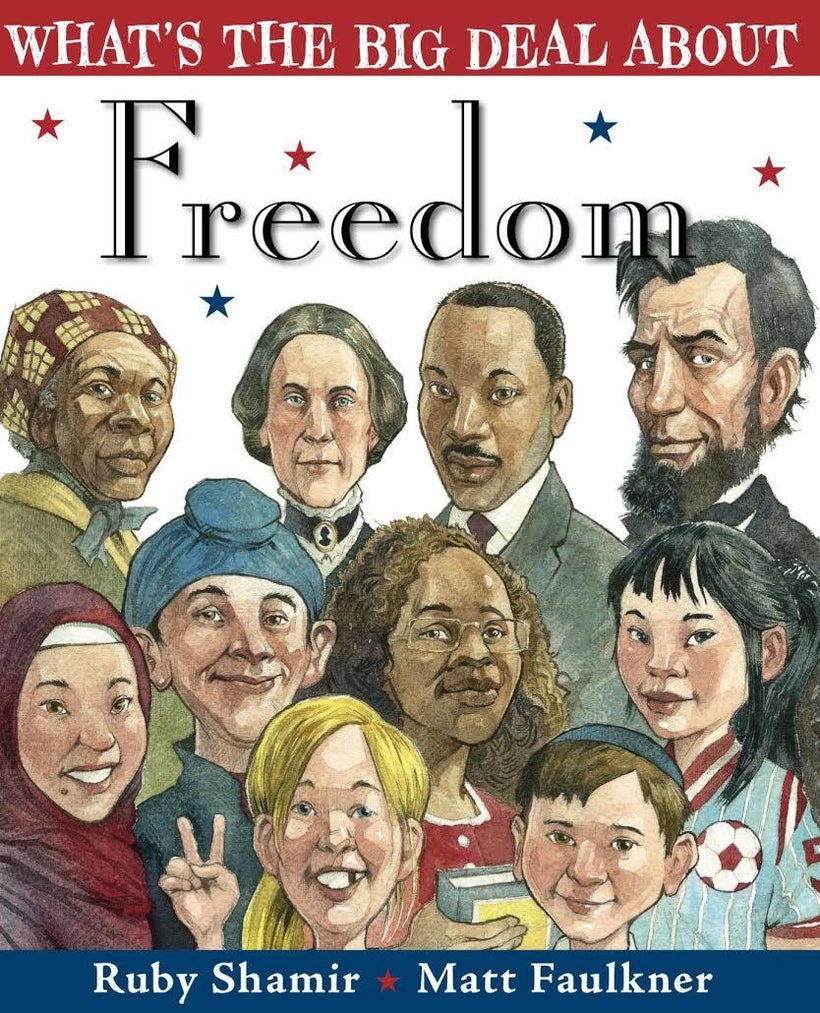 Several months ago, I reviewed my former classmate Ruby Shamir's children's book What's the Big Deal About: First Ladies and interviewed her about her experience working with Hillary Clinton. http://www.huffingtonpost.com/entry/whats-the-big-deal-about-first-ladies-an-interview_us_58607c5ce4b068764965bd46 As the first in the What's the Big Deal series (the publisher is Philomel Books, an imprint of Penguin Young Readers Group), First Ladies serves as a teaching tool in schools and is also a book for kids to read at home. A bit longer than most children's books, I found it easiest to break down into different sections and allot them to certain nights of the week for my rambunctious 7 year old twins. With the second in this installment, What's the Big Deal About: Freedom, one of my twins and I were able to digest everything in a single sitting. It could be due to the passage of time and resulting maturity from one reading to the next, but Freedom is also a shorter read. My son was pretty psyched to share what he already knew about the founding fathers, the Declaration of Independence, The Constitution, voting rights, slavery and emancipation. He couldn't wait to get to the part in the book about Martin Luther King while we were discussing events of the 1700s.
Having such an enthusiastic reader certainly helped, but What's the Big Deal About Freedom definitely captures the attention of children and adults alike. I am ashamed to admit that I had never heard of the slave who hid in a box to escape from Virginia to Philadelphia where he could be free. My son, on the other hand, already knew all about this. Reading the book together gave him a chance to show me what he had learned and had really paid attention to in school (it's possible I had learned all of these things as well, but I may not have paid as much attention or have forgotten a lot from my elementary school days). His twin would pop in and out of the room to state facts such as "the underground railroad wasn't a real railroad" and give me further detail on how it operated – I laughed thinking about the "Real Housewife" on Bravo TV who thought there was an actual railroad with trains involved while my own grade schooler was easily breaking down the metaphor to me.
We also discussed terms like "Abolutionist," "Emancipation" and "child labor laws." We delved into the Emoluments Clause of the constitution and how America was once under British rule and citizens had to answer to a monarchy. In relation to today's presidency, we discussed not only this theme but that of freedom of speech and freedom of the press. All of these themes are mentioned or touched on in the book. Ruby Shamir provides much food for thought for her readers that not only covers history but can be paralleled to current events.
My eager reader noted the irony of Thomas Jefferson keeping slaves though "he wrote the words that became the basis of every struggle for freedom in America" as it states in the book. I noted that Frederick Douglas's story is given in an illustrated corner in this kids' guide while our current president was recently not even sure if Douglas was alive or dead today. Hours after reading together, my "tester" impressed me with his recall of the timeline of historic events pertaining to U.S. freedoms.
What's the Big Deal About Freedom is a great gift for children from parents, aunts, uncles, godparents and friends. It also makes a terrific end of year treat for any teacher preparing for next year's students. The book, along with What's the Big Deal about First Ladies can be purchased in stores or at www.penguinrandomhouse.com.