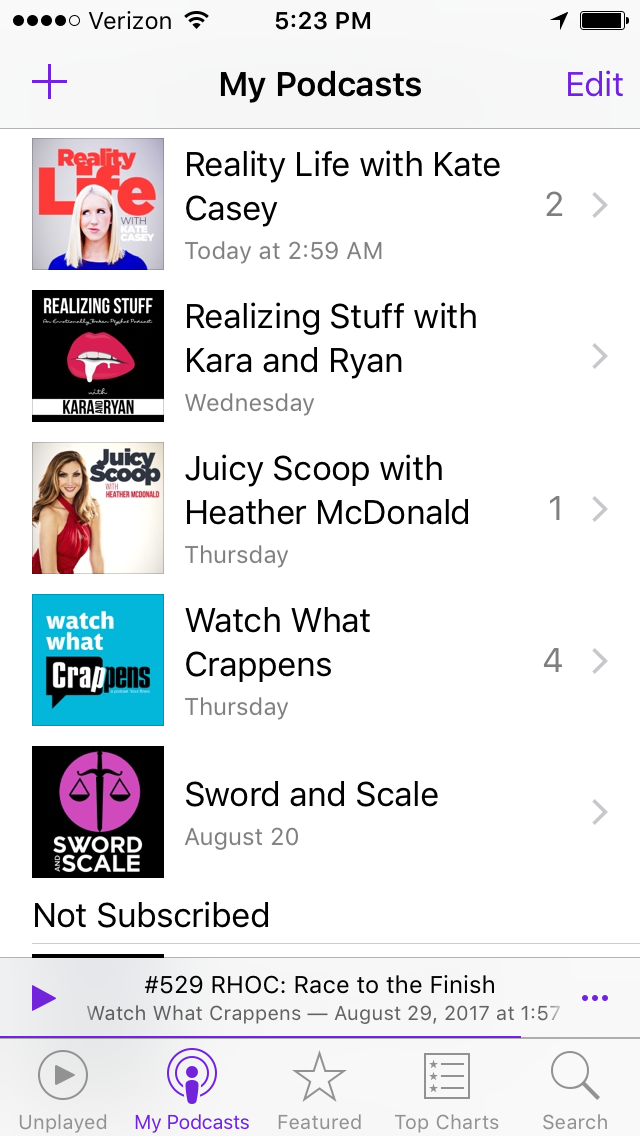 When I asked friends "What are your favorite podcasts?", I was not expecting Nell Kalter, a teacher and writer, to send over two pages. People really like their podcasts and they'll tell you exactly why, but then there are those who have never yet listened to one. In my experience, which is thus far limited to informal polling, those people are mainly high school students, Gen Xers and Baby Boomers. Many of my friends in their 40s, who are essentially 9-7 professionals, are just beginning to take an interest in podcasts. Yes, believe it or not. They're just beginning. Others caught Serial when it was the "not-to-be- missed" sensation, but haven't listened to another podcast since.
"Do you listen on the computer?" is a question I've gotten from a few individuals I shall not name.
I think it's a little embarrassing in this day and age post-Serial, but I DO get it. I've been told brashly by others "I have a life. I have a job" – only the most insulting thing you can say to someone as they too toil away (with a podcast in the background for good measure, of course).
I've also been the recipient of the side-eye from folks who have listened to podcasts since they began cropping up and regard me as a dinosaur. The act of creating podcasts, "podcasting", was first known as "audioblogging" and its genesis predates to late 2004.
There are currently hundreds of thousands of podcasts (and counting!) to listen to if you are an English speaker. My own interests vary from true crime (i.e. Sword and Scale, Criminal, White Wine True Crime, Suspect Convictions, My Favorite Murder) to reality TV-related interviews and recaps combined with light chitchat that distracts me from national news (Watch What Crappens, Reality Life with Kate Casey, Adderall and Compliments, Realizing Stuff with Kara and Ryan, Emotionally Broken Psychos, Feathers In My Hair ,Everything is Iconic with Danny Pellegrino,  Grants Rants, Things We're Too Lazy to Blog About, Buttered Pop and so many more).
I also delight in listening to a podcast about politics that is actually more about two funny ladies giving their comedic perspectives on the current presidential administration (Dumb Gay Politics with Julie Goldman and Brandy Howard from Bravo's The People's Couch).
Here is what two of my friends had to say about their own podcast preferences. Nell Kalter is a Gen Xer who helpfully broke hers into categories. Rachel F. is a Millennial who spoke about her favorites (and requested anonymity due to the nature of her profession).
I. NELL KALTER – Gen Xer
The Reality TV podcasts: The very legitimate need for escapism from the latest news about whatever horrifying thing the 'head lunatic in charge' just said on any given day has multiplied recently – much like that creature in Human Centipede 3 – and there's perhaps no greater escapism than listening to intelligent people yank and pull reality television apart. I've written recaps of reality shows for a few years now (Vanderpump Rules, The Real Housewives of Beverly Hills, Are You the One?, etc.) and I've taught Film and Media for even longer, so the podcasts I gravitate to in this arena are those that explore how manipulated these shows truly are in a manner that I seriously hope every person watching fully understands.
I listen to Reality Life with Kate Casey because she scores timely subjects for interviews and she asks probing questions that often make me appreciate certain participants of reality shows in a way I haven't before. Shep Rose, a key player on Southern Charm, came off as far wiser and more politically aware than he does on his series when he spoke with Casey, and knowing he has those attributes somehow enhances the show for me. I'm not an avid fan of The Bachelor – I watch the first episode each season before suddenly remembering that seeing a grown woman named Lindzeeee cry in a corner about feeling rejected by a man she met ten minutes ago could potentially stunt my growth – but I have written on Reality Steve's site for some time and I crazily respect his unparalleled ability to spoil the show. He started a podcast a while ago and I don't know every person he interviews because I don't follow The Bachelor closely, but he still manages to pull me in because his interview style is effortless and quite charming. If you haven't listened to him yet, check out the episode he did with Michelle Money. She exhibits a level of real bravery while discussing the choices she's made throughout her life that may end up inspiring you.
The Erudite Pop Culture podcast: How was Your Week with Julie Klausner was the first podcast I ever listened to and she hooked me immediately with her hilarious takes on of subjects as varied as serving on jury duty and the Met Gala. Klausner, the creator, writer, and star of the brilliant and subversive show Difficult People, is sort of my idol; she literally has completed the trajectory of the exact career I'd chant for if I actually believed something like chanting worked. She used to write scathing and hysterical reality TV recaps before she moved on to writing her own television show, and though she hasn't done as many podcasts as she used to, she came back recently with a brand new episode that is laugh out loud funny. (And I swear I'm not just complimenting her work in the hopes that she'll send me one of those snack blankets she trotted out on the most recent episode of Difficult People – but should she be reading this, I'd like a Savory Blanket in pale pink.)
The True Crime podcast: Like everyone else I know, I consumed Serial like it was arsenic-laced candy. I've had an interest in the most bizarre crimes that have ever occurred throughout the annals of history since the day I accepted my own double-dog-dare and finally read my sister's copy of Helter Skelter, a book I'd peek at constantly but shied away from because I feared the stark black and blood red cover and the warning scrawled on the first page that the book I was about to read would scare the hell out of me. The cautionary note was accurate, but I realized that what I found most fascinating about Charles Manson ended up being not the man himself, but his followers.
As someone who is not religious and not fanatical about anything except Springsteen, the devout belief Manson's followers had in him intrigued me, as did the line within them – the one that grew shadowy and pale after months spent gobbling acid on the dusty terrain of Death Valley – that delineated those once light sides from their growing dark sides. It's an internal line we all have, and I guess the perverse side of me is drawn to understanding what causes someone to hop over that line in a spectacularly cruel fashion.
After obsessing over Serial, I moved on to the podcast version of one of my favorite shows, 48 Hours. The podcast may not be hip, but the stories are explored in a taut, compassionate, and totally consuming manner.
The Best Interviewer podcast: A friend turned me on to The Tim Ferriss Show a while ago and I've perhaps never heard a finer interviewer who has been able to delve into so many subjects with verve and legitimate enthusiasm. This guy examines the life of a Navy Seal in one episode and ponders how to live without limits in the next. His interview with Jamie Foxx made me wish my own name ended with at least one "x" because Foxx was revealed to be patently ambitious, beautifully wise, and wildly funny all in the same breath. My guess is that Ferriss' podcast would have the greatest mass appeal of all of my favorite podcasts because he examines everything within the zeitgeist exactly as it's occurring. Want dating advice? Ferriss has you covered. Ever wonder what spiritual fuel Tony Robbins downs instead of Adderall to achieve enlightenment? Ferriss will be your guide as you wade into that crystal water of wisdom. In short, Ferriss manages to instantly relate and form a rapport with every person with whom he speaks and he knows how to hone in on what will interest his listeners the most in each moment – and he keeps those listeners thinking long after each episode ends.
The My-Obsession podcast: Listen, I don't love anything more than I love Bruce Springsteen. Seriously, I'd give up Twix bars, iced coffees on August mornings, my favorite six-inch heels that make my feet bleed, and several family members just to have a five minute meeting with the man I believe to be the single finest songwriter in the stratosphere – and I'd give up those people and those things without even a smidgen of guilt. I've been to countless shows and there were many months when I was in my twenties when I couldn't afford my rent because my priorities were: 1)Springsteen tickets 2)Huge pretzel at the concert 3)A roof over my head. I appreciate fellow fans who worship him as the deity I believe him to be, and Tramps Like Us is a podcast for Springsteen aficionados. Lee McCormack's appreciation for Springsteen's artistry is evident in every single episode, and if you're a Springsteen fan, I recommend you check it out. And should you snag the tickets to Bruce's upcoming appearance on Broadway that I feel deep in my soul are MINE, I also recommend that you hire yourself several burly bodyguards.
Nell Kalter teaches Film and Media at a school in New York. She is the author of the books THAT YEAR and STUDENT, both available on amazon.com in paperback and for your Kindle. Her Twitter is @nell_kalter
II. RACHEL F. – Millennial
Okay, I thought hard about this because I listen to about 20+ podcasts. Here are my top 5:
1. Bowery Boys: New York City History
This was the first podcast I ever listened to. My dad recommended it when I moved to New York 4 years ago. Before I started working, I binged its episodes to get acclimated to the city. I grew to love my new city with every episode. The creators Greg Young and Tom Meyers recently published a book of New York City history and of course, I went to one of their signings. Meeting them was a dream come true and I expressed how appreciative I was for their work.
2. The Black Tapes Podcast
This podcast is a serialized horror story about a young reporter teaming up with a paranormal expert to investigate unsolved paranormal activity. The story-line is very compelling, but unfortunately, it is ending after 3 seasons this year. The mystery gives me the creeps, but I cannot stop listening.
3. You Must Remember This
This is another history podcast, but it is about old Hollywood. The creator is Karina Longworth, a Hollywood enthusiast, and every few months she posts mini-series about Hollywood's history. This season she focuses on the parallels between Jane Fonda and Jean Seberg, two contemporary actresses who were investigated by the FBI for their ideologies. Other topics she covered previously were Charles Manson, the Hollywood blacklist, and Joan Crawford. Karina has a wonderful voice to listen to, as well.
Well you and I met at their show, so enough said. Jessica Chaffin's and Jamie Denbo's Ronna Glickman and Bevery Ginsberg (respectively) make my week! It has been a rough summer without their humor because they are currently on hiatus. But when they release new episodes, I have a hard time focusing on work because I am constantly cracking up at my desk. Impeccable timing, great guests, it is the best comedy podcast out there.
When thinking of this list, I thought about what podcasts I cannot wait to download on my phone. My Favorite Murder is one of them. Karen Kilgariff and Georgia Hardstark deep dive into high-profile and unknown crimes. I always look forward to their mini-episodes with people's hometown murders as well as their main episodes. Karen and Georgia have created a community where not only do we like talking about murder, but we also look out for each other in signs of danger. "Stay sexy and don't get murdered" is a motto more people live by because of the podcast.